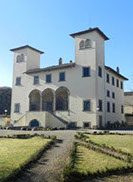 Villa Fontarronco
Her beauty and the undoubted advantages in terms of space prompted us to choose Villa Fontarronco as the organizational basis of our work of catering.
A large warehouse and a fully equipped kitchen sets allow us to manage the logistics of the event offering the best service at optimized costs.
A romantic location for a very special ceremony.
This is Villa Fontarronco, building from the early 1600, lying within the Valdichiana. Its elegance is the result of the magnificence of the past owners as Ferdinand II, Grand Duke of Tuscany. There is also the chapel dating 1700, still consecrated, a swimming pool and an elegant courtyard in front of the splendid villa, all surrounded by a magnificent park. Inside, the lounge with wooden beams, brick arches and terracotta floors, for up to 300 people.